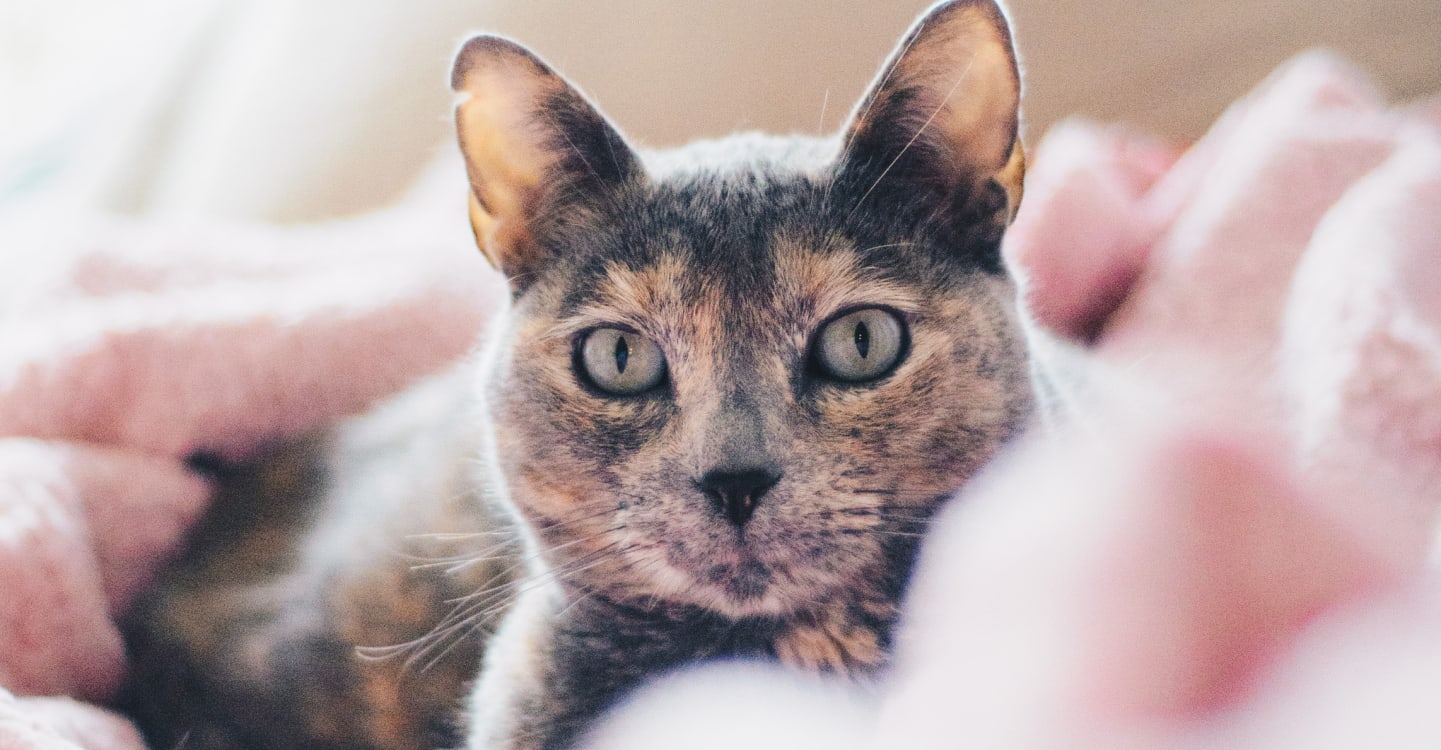 Be more cat treat-wise
Health
Treating our favourite furry-felines almost becomes a guilty pleasure for us humans, we just love to see how happy a delicious little treat makes them.
In fact 61% of cat parents treat their cats four or more times a week, and 49% feed their cats treats every day!* Whether this treating behaviour is based on rewarding them or simply just trying to stop them begging for scraps and cat treats, 98% of vets believe that excessive treating is the main cause for pet obesity.**
So you may be wondering, are cat treats bad for cats? And the simple answer is no! But how can us pet paw-rents be more aware of what contributes to our cats weight problems and therefore the best cat treats to feed them. The Pet Food Manufacturers Association believe that bad human habits have crept in and become established into our pet care routines. In fact 100% of vets are worried about pet obesity**, and the problem has only become worse in the past five years.
Is my cat the right weight?
As cat owners we can easily be blinded by love for our fur-babies, thinking they're absolutely perfect the way they are. But vets think that 44% of cats are overweight or obese**. There are three simple ways to tell if your cat is an ideal weight without the stress of trying to weigh them!
Ribs
Your pet's ribs, spine and hip bones should be easily felt. But if they visibly protrude, your cat is most likely too thin. Just make sure to feel them gently so they don't run away!
Waist
Their waist should be visible, especially from above. But just remember to account for your cats fur, particularly if they are long-haired. It might be easier to feel for their waist & ribs at the same time.

Tummy

Although a small amount of tummy fat should be noticeable, (they need to get their energy for playtime from somewhere!), your cat's belly should have an abdominal tuck when viewed from the side.
Human Snacks v's Cat Treats
It can be easy for us to forget that those tiny mouths mean tiny tummies. Not only is it unhealthy for our cats' weight gain, lots of calories in the form of human snacks can also cause upset stomachs for your fur-pals. A small snack adds up to a mega meal for your pet, see some of the key offenders below and what they equate to for us humans.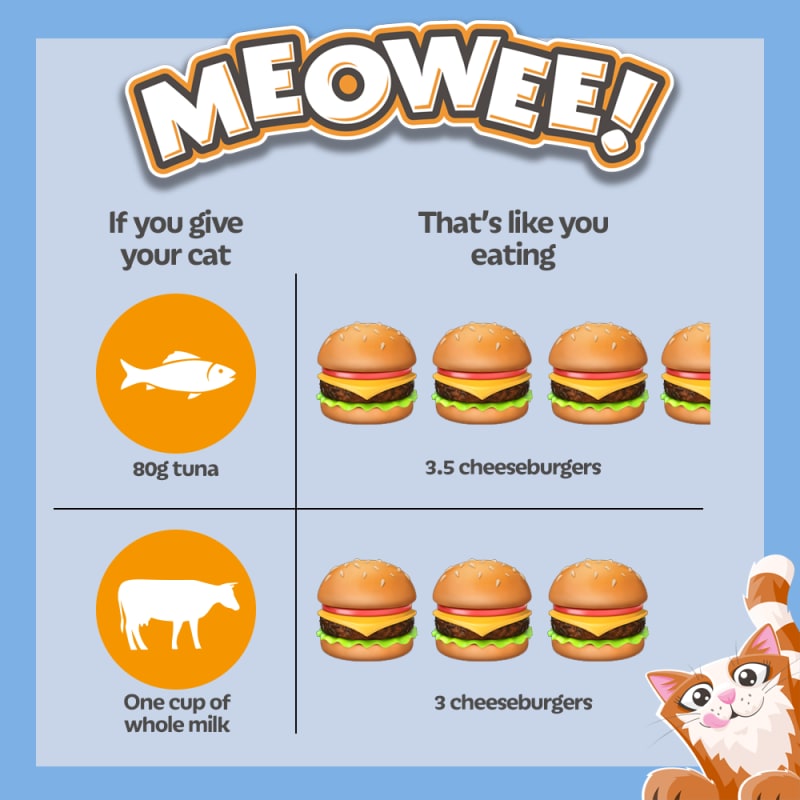 Not only that, 23% of us pet owners admit to feeding scraps.** This can start with just a little bit of leftover chicken from your plate and develop into sauce-laden meat and maybe even crisps - if that's what your cat is begging for. According to the PFMA, human food table scraps are inappropriate for pets as they can be too high in fat, salt, sugar and energy content. What may appear to be a small portion for a human is a large portion for a pet.
Six ways to control your cats calorie intake
1 . Include treats as part of your cat's overall daily food intake, and make sure treats are not an addition to their recommended daily calorie intake. You can work out how many calories your cat should be consuming each day here.
2 . Follow the feeding guidelines on your cat's food and treats packaging and remember that treats are only a complementary pet food for cats.
3 . Precisely measure out all your cat's meal portions, making sure to take account for wet and dry foods. Be extra careful if you have more than one cat, you might need to consider feeding them separately.
4 . Generally cats like to graze on their food throughout the day. However, if you know your furry-feline is a bit greedy with their food, as well as begging for treats, it could be worth investing in a feeder with a timer which means you can serve accurate portion sizes for your cat.
5 . Don't forget to reduce your cat's daily food intake by 10 percent when treating to avoid weight gain. This includes any extra treating, like freshly cooked chicken or fish.
6 . Consider splitting your cat's complete food, feeding both wet and dry food. This means that they can snack on the biscuits throughout the day and are then less likely to greedily eat a whole bowl of food in one sitting.
Your cat still deserves to be treated
Here at Meowee! we're crazy about your cats. We put them at the heart of everything we do! We're also honest about what goes into our treats so you know exactly what you're giving your cat. Our treats are packed full of natural meats and fish and not only that, our treats are low in fat, grain free and high in protein. Remember to be treat-wise! No more than 10% of your cat's diet should come from treats, you will need to adjust the serving size of your cat's complete food accordingly when feeding treats. You can find out more about which are the best cat treats for your furry-feline and the calories in our high meat cat treats here.

* Source: Cake Consulting Ltd. Armitage Commissioned Quantitative Study Nationally Representative Sample, 409 Cat Parents. April 2019 ** Source: PFMA Pet Obesity Report 2019